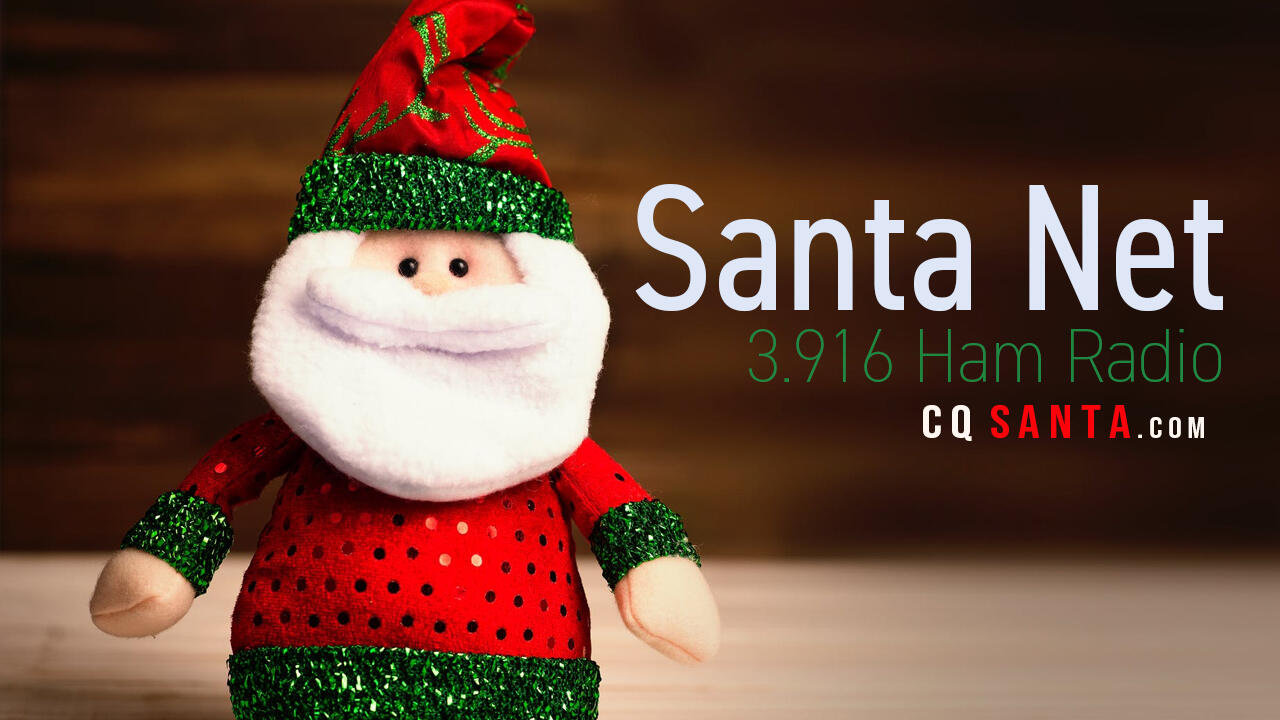 Share the magic of Ham Radio and Santa Claus with your children, grandchildren, and neighborhood kids.
The Santa Net is held every evening between Thanksgiving and Christmas on 3.916 MHz at 7:00PM Central Time (check-ins open 1/2 hour before).
Santa Net Videos
Want to share yours?
Film your contact with Santa and upload it to YouTube. Send the YouTube URL in an email to
elf@cqsanta.com
, and we'll post it here!
An outdoor contact with Santa, complete with crickets chirping in the background like sleighbells. It hasn't snowed in Orlando, Florida since 1977, but that wont't stop Santa and his sleigh from paying a good boy like Greyson a visit!
Nicholas N4BUT, Orlando, Florida
Has anyone ever asked Santa to bring a Pet Frog? Let's hope one hops onto Santa's sleigh this Christmas Eve. Great facial expressions from this bunch, Alex, Cooper, Chase and Jack!
Adam N4NT, Bristol, Tennessee
What a joyful family experience! Everyone gathered around the radio as Hailee made contact with the big man at the North Pole. We're sure W7PD is looking down and smiling.
Patti KE7IR, Amado, Arizona
Anthony, Adeline and Aron are back again this year, continuing a tradition started with Tom W7PD. Everyone is hoping Santa comes through on their requests for a cotton candy maker and a sewing machine!
Thomas W7EAW, Amado, AZ
Bret and his family show up show up every year, checking in from their farm in rural Kansas. Watch as Kyle, Ella, Geneva, Vivian, Watson, Lauren and Weslyn make an unforgettable moment with Santa.
Bret AC0AE, Atlanta, Kansas
Here it is! The first Santa Net video of 2022. High-fives from Dad as six year-old Atticus makes contact with the Big Man at The North Pole!
Ben K0BJJ, Newton, Iowa
Grandpa Frank has a great looking station, which proved very capable for making contact with the North Pole. His grandson, Carmine, stopped by and snagged a rare DX contact with Santa.
Frank KB2MXV, Barnesville, Pennsylvania
Carter got sleepy, but he'll be back to talk to Santa another night. However, Jillian stayed up late and made one big, exciting (and memorable) contact with Jolly Old Saint Nick.
Doug KB2UKA, Kings Park, New York
Woohoo! Much excitement in Tim's hamshack tonight. The wind was blowing. It was snowing. And Santa tuned in to talk with the good kids, Hailey, Spencer, and Ryan.
Tim , Albuquerque, New Mexico
Joe and Michael hear Santa loud and clear, all the way from the North Pole to Tennessee.
Jeff AJ4GY, Bartlett, Tennessee
Mason and Carter were soooo excited to talk to the big man. Wide eyes, big smiles, lots of jumping!
Steven KC5VBI, Spring, Texas
Mic shy or not, Santa always knows what to bring! Twins Kyler and Averie, and older sister Jessa are ready for Christmas morning.
Jason WA7CQ, Lewiston, Idaho
Teddy called in from New York, near the Adirondack mountains. What a joy-filled Ho Ho Ho!
Nick W2EML, Canton, New York
What a Christmas this will be. Liam is going to make Santa cookies!
David WI4L, Dalton, Georgia
Ellie is a radio pro! She made a great contact with Santa, through all the static and snow.
Austin KE0YOA, Leavenworth, Kansas
Wow, Sage's granddad really knows how to edit video and shovel chocolate pie. This video is a treat, and Santa Net's first from 2021!
Jon N5UUA, Wagoner, Oklahoma
Zoey wants a dinosaur! No request is too big for the big man. Such a great video. Zoey's contact starts around the 3 minute mark
Joey KI5DDO, Cedar Park, Texas
Oh man! What a great family memory! Caleb, David and Eveyln snag that rare contact with the North Pole.
Darricke KK4DSR, Calera, Alabama
Is Sean controlling the international space station or talking with Santa? Maybe both! Ham radio sure has come a long way.
Patrick W9PDS, Chicago, Illinois
Vivian is growing so big! Santa remembers her from last year. Here she is, back again, bringing smiles to the airwaves.
Matt K0VLL, Pittsburg, Kansas
Three sisters, Elizabeth, Haley and Leah. Moments like this make the world happy. Sweet ham radio desk too!
Shane KD9HJN, Krakow, Wisconsin
Santa's elves are about to get busy, because Eagan has been extra good this year. Mom and Dad are proud. Great smiles!
Tom KG5WZD, La Porte, Texas
James and Maddie make it a point to check into the Santa Net every year, and the big man is always happy to hear from them.
Jack K2JSS, Forked River, New Jersey
Last year, Brad KC1JMH didn't have HF privileges, and Jordan could only listen to Santa. That night, Brad made it a goal to upgrade to General Class before Santa Net 2019. Well, sure enough, he upgraded and Jordan was able to talk to Santa this year. Thank you, Dad!
Brad KC1JMH, North Waterboro, Maine
Oh, the excitement is contagious! Molly and Maddie talked with the Jolly Old Man up North!
Dan K9DJR, Chicago, Illinois