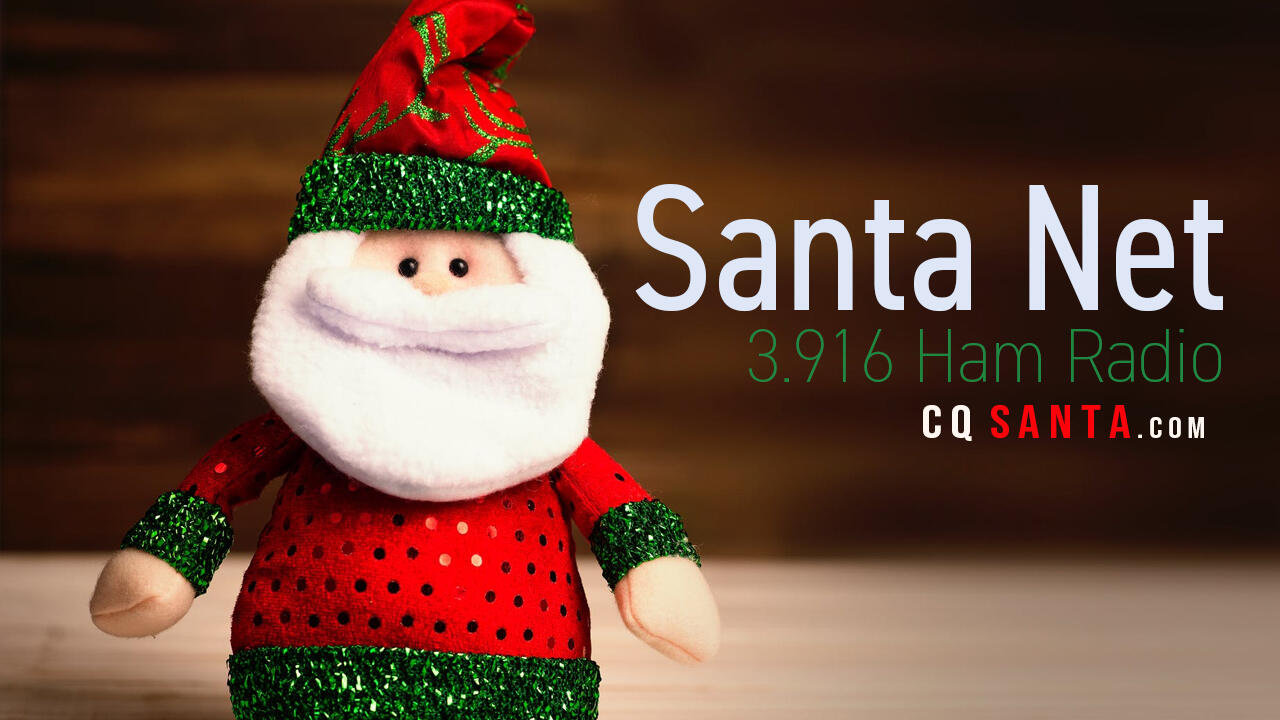 Share the magic of Ham Radio and Santa Claus with your children, grandchildren, and neighborhood kids.
The Santa Net is held every evening between Thanksgiving and Christmas on 3.916 MHz at 7:15PM Central Time.
Santa Net Videos
Want to share yours?
Film your contact with Santa and upload it to YouTube. Send the YouTube URL in an email to
elf@cqsanta.com
, and we'll post it here!
Zoey wants a dinosaur! No request is too big for the big man. Such a great video. Zoey's contact starts around the 3 minute mark
Joey KI5DDO, Cedar Park, Texas
Oh man! What a great family memory! Caleb, David and Eveyln snag that rare contact with the North Pole.
Darricke KK4DSR, Calera, Alabama
Is Sean controlling the international space station or talking with Santa? Maybe both! Ham radio sure has come a long way.
Patrick W9PDS, Chicago, Illinois
Vivian is growing so big! Santa remembers her from last year. Here she is, back again, bringing smiles to the airwaves.
Matt K0VLL, Pittsburg, Kansas
Three sisters, Elizabeth, Haley and Leah. Moments like this make the world happy. Sweet ham radio desk too!
Shane KD9HJN, Krakow, Wisconsin
Gavin and Mackenzie waited a long time to talk to Santa on a busy Saturday night. Grace got too sleepy and had to go to bed, but Santa has her covered too.
Shane NG1D, Stark, New Hampshire
Giddy with excitement! Who is Santa sure to visit this Christmas? These cheerful kids, that's who.
Brian KC9GFR, Tilton, Illinois
Santa's elves are about to get busy, because Eagan has been extra good this year. Mom and Dad are proud. Great smiles!
Tom KG5WZD, La Porte, Texas
James and Maddie make it a point to check into the Santa Net every year, and the big man is always happy to hear from them.
Jack K2JSS, Forked River, New Jersey
Someone snitched on Colette! Her cat, Twitch, has been keeping Santa informed, and reports that she's been a good girl all year long. Gotta keep an eye on those pets. Sometimes you wonder what they're really up to.
Erich KC9CUK, Wonder Lake, Illinois
What a cute contact with Santa. But wait! Is Atticus a natural at morse code? Watch closely at the 2:36 mark and see what you think.
Ben K0BJJ, Newton, Iowa
Joshua in Alabama was so excited to talk to Santa. Granddad Glenn looks mighty proud. Santa is too! Nice job this past year, Joshua
Glenn KG4BLR, Opp, Alabama
Someone made the Good List! Izzy talks with Santa in the North Pole!
Jim K5KTF, Leander, TX
Gavin, Mackenzie, Grace and Aiden checked in. Santa has big plans for these good boys and girls!
Shane NG1D, Stark, New Hampshire
Carl has been waiting all year to talk to Santa. Pokemon and Transformers - just the classics. Santa has him covered.
Ken KC3LZI, Kersey, Pennsylvania
Last year, Brad KC1JMH didn't have HF privileges, and Jordan could only listen to Santa. That night, Brad made it a goal to upgrade to General Class before Santa Net 2019. Well, sure enough, he upgraded and Jordan was able to talk to Santa this year. Thank you, Dad!
Brad KC1JMH, North Waterboro, Maine
Jax has been a good boy all year long, and now it's time to get on the radio and tell the old man all about it. Santa was so happy to hear from Jax!
William K4UOJ, Lucas, Kentucky
Oh, the excitement is contagious! Molly and Maddie talked with the Jolly Old Man up North!
Dan K9DJR, Chicago, Illinois